What a wonderful year Pottstown Community Arts had! Thank you to every person and every organization who supported us. Together, we created new art opportunities, encouraged both young and old to make art and then displayed it in public places, recycled materials that were slated for the trash heap, supported local events, and beautified our town of Pottstown.
Pottstown Community Arts completed 16 community art projects and started 1 monumental project. We reached more local kids and residents than ever before.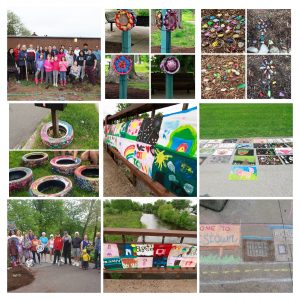 In no particular order, following are the 16 community art projects brought to you by Pottstown Community Arts:
Bottle Cap mural of a map featuring the continental USA which is on permanent display at the Coventry Mall
Monthly Community Arts class at the Pottstown Regional Public Library
Earth Day clean up at the corner of King and Manatawny streets
Dream Rocket participation
Painted old tires at the Month of the Young Child event
Designed both a logo and a yard sign for Pottstown Community Action
Monumental project:
Started painting 1 of 6 murals for the Pottstown Regional Public Library at the Coventry Mall
Thank YOU again.
Love what we do?
Please consider donating to our projects today.
(Link takes you to MOSAIC Community Land Trust website, as we are a committee of MOSAIC, where you can choose the amount you want to donate. Thank you!).