After hosting just 3 rock painting events, we had accumulated over 300 painted rocks.
On the morning of Saturday May 8th before the skies opened up, we attended the Mosaic Garden Open House. Our youngest helper dumped all the painted rocks on the ground.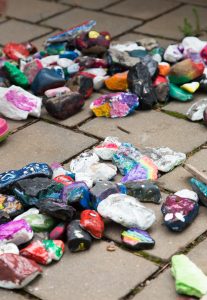 Together we lined the pathway with all the large rocks.
(Note that all the plots in the Mosaic gardens this year are raised beds, allowing vegetables to grow better, especially with the clay soil in our area. There are still a few plots open if you wanted to grow some juicy tomatoes.) 
Then, grabbing handfuls of small rocks, we made spirals and rock flowers to decorate the plain brown mulch.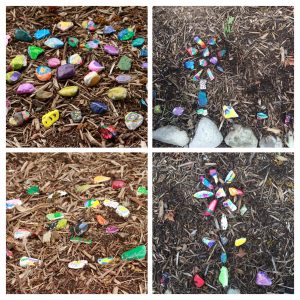 We will be hosting more rock painting events in the future. This is a project we hope to continue for years to come. Why the Schuylkill River is full of rocks and the Mosaic gardens as well as local parks are full of pathways just begging for a pop of color. Plus, painting rocks is fun!
Love what we do?
Please consider donating to our projects today.
(Link takes you to MOSAIC Community Land Trust website, as we are a committee of MOSAIC, where you can choose the amount you want to donate. Thank you!).