With the help of 2 art classes from The Hill School, the King Street Bridge Project was hung in record time – less than 10 minutes.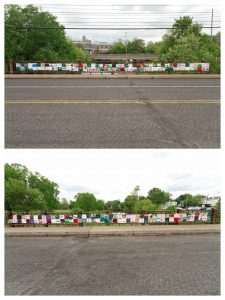 The artwork from local children and elders hide the old, rusted bridge upon which it hangs, beautifying the Manatawny Creek area.
Thank you to the Participating Groups and Schools: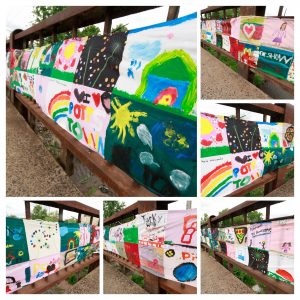 The King Street Bridge Project is perhaps our most beloved project. It is the project that started Pottstown Community Arts 3 years ago. We install the Bridge Project twice a year, featuring artwork from local youth. Typically this is their first entry into public art. It is extremely empowering to young kids to see their artwork featured in a public setting.
Be sure to drive slowly across the King Street Bridge in the near future and check out the colorful, unique artwork!!
Love what we do?
Please consider donating to our projects today.
(Link takes you to MOSAIC Community Land Trust website, as we are a committee of MOSAIC, where you can choose the amount you want to donate. Thank you!).