On Wednesday, April 12th, we hosted our monthly Art Club at the Pottstown Regional Public Library in their downstairs Community room. 18 children and their parents came to the event in order to paint rocks.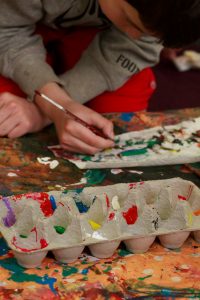 The night before, Marie and her 3 kids fished for rocks in the Schuylkill River next to the fishermen who were looking for something tastier. The kids succeeded in fishing out rocks big and small. Almost all of the rocks were painted – a total of over 100!
Some of the rocks were painted with only 1 color, but most were painted with many shades. These rocks will be weather-proofed with an acrylic sealer. During MOSAIC Community Land Trust's Open House, we will allow plot owners to choose the rocks they want to put in their bed plus we will line the pathways with them.
Next month at Art Club, we will be turning hubcaps into flowers. Come join us on on Wednesday, May 10th at 10:30 am.
Love what we do?
Please consider donating to our projects today.
(Link takes you to MOSAIC Community Land Trust website, as we are a committee of MOSAIC, where you can choose the amount you want to donate. Thank you!). 
Photographs taken by Patti Klein.
©Patti Klein 2017