The Coventry Mall, the local mall in Pottstown, put out a Call to Artists. They wanted to decorate a temporary wall hiding the construction of a new storefront. The theme was Winter Wonderland.
We eagerly answered their call.
Our goal was to create a mural that featured Pottstown while involving the local community.
Last year, we had yarn bombed a tree on Chestnut Street. Though the yarn had since been removed due to shabbiness, it held a special place in our memory and quickly became the main inspiration for our mural.
Right down the street from the rainbow tree is the Phillies Firehouse. They have been in Pottstown since 1871 and in addition to saving lives on a regular basis, they are a community partner in their high level of participation to local events. We were delighted to include their firehouse in our mural.
The tree and the Phillies Firehouse were the centerpieces of our mural when it was first drawn.
Artists, both young and older, helped paint the mural. Children from as young as 3 helped fill in the sky, sidewalk, road, tree and firehouse.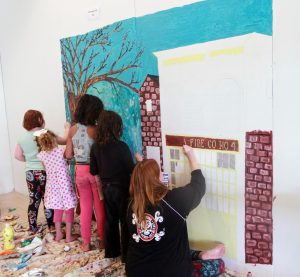 So many details were added to the mural, lending it greater dimension and bringing it to life. Look for the houses, shutters, knitting loops, wreaths, brown leaves, door frames, and brick work. Each detail was envisioned by the sheer talent and creativity of the 5 artists who worked on this mural: Bronwyn de Maso, Shirley Kanyon, Patti Klein, Kai Kulkarni, and Audra Ross.
The final touch was created by local residents who stopped by our craft table and cut a snowflake. We hung them with embroidery floss and tape. They give a brilliant 3D effect. Thank you to all who stopped by to make a snowflake for our Chestnut Street mural.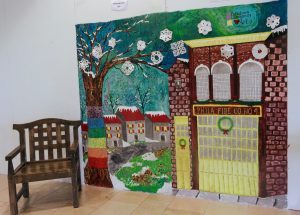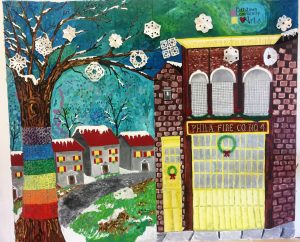 Thank you to Coventry Mall for inviting us to paint a mural on their wall and for allowing us to stay while we paint the 1st of 6 murals for the Pottstown Regional Public Library.
Love what we do?
Please consider donating to our projects today.
(Link takes you to MOSAIC Community Land Trust website, as we are a committee of MOSAIC, where you can choose the amount you want to donate. Thank you!).