You are cordially invited to the ribbon cutting and installation of the USA Bottle Cap Mural.
On Friday, August 25th, at 5pm within the Community Room at the Coventry Mall, we hope to thank everybody who helped us complete this giant mural; (it measures 8 feet long by 4 feet tall!).
We would first like to thank Justin Bartholomew, Manager of the Coventry Mall, for welcoming our project into their Community Room.
The credit for dreaming up a giant bottle cap mural of the United States of America goes to Kai Kulkarni.
The map of the continental United States of America was drawn by 2 of our artists: Kai Kulkarni and Alyssa Glick. (It proved impossible to squeeze the giant state of Alaska onto the mural. Although there was ample space for the beautiful state of Hawaii, it felt wrong to include one without the other).
The Center for the Arts at The Hill School donated paintbrushes and paint, allowing us to paint the states first along with the surrounding ocean.
Then, came the daunting task of collecting hundreds of bottle caps. Recycled Services, Inc of Pottstown gave us a jump start by allowing us to root through their collection and take as much as we needed.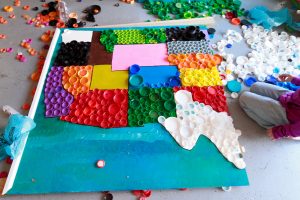 Friends and family pulled together the lion's share though. We welcomed all sizes and all colors. We were glad that we did. The bottle cap mural has distinctive character thanks to all the different sizes and shapes found.
Bottle cap collectors: 
Pottstown Public Regional Library (they gave us their leftovers from the bottle cap murals made during the summer program)
Mr and Mrs Brendlinger
Mrs Irene Law
Sheryl Miller, Councilwoman
Sarah Spatz
Anne Butler
Audra Ross
Kai Kulkarni
Elisa and Ray Rose
Marie Haigh
Alyssa Glick and family
Mrs Bette Mitchell
Bronwyn de Maso
We started with just the Pottstown Community Art's members' children helping, but they grew weary of the mural quickly. So, the neighbors came over. Then grown-ups helped. When the mural still wasn't finished, we took it to local playgrounds and asked the kids there to help.
Kids of all ages helped. The youngest was 2. The oldest was a teenager.
It took several bottles of glue, hundreds of bottle caps, a large pile of buttons, paint, mod podge, and scraps of wood to finish this bottle cap mural. It has been a joy from start to finish. We can't wait to make another one.
If you are interested in having a bottle cap mural made for your business or home, contact us.
Love what we do?
Please consider donating to our projects today.
(Link takes you to MOSAIC Community Land Trust website, as we are a committee of MOSAIC, where you can choose the amount you want to donate. Thank you!).