There are so many good reasons to work on a mural together:
It's fun!
You can talk and laugh with your friends while you work.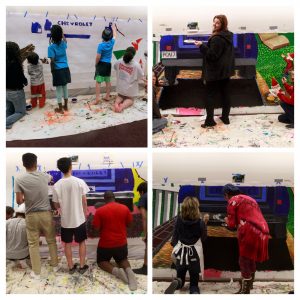 Kids can come and paint or play as they want. There are enough eyes that somebody is always watching them.
Artists can learn from each other; knowledge is shared.
Mistakes are easily fixed; Someone else is always nearby to help.
Creativity abounds! So many people, including the children, have great ideas! The gnomes, the purple mountains majesty, the rainbow heart, the pink flowers, and the golden street – none of it was planned. A question was posed "Why don't we add a flower here or a gnome there?" Why not indeed. 
As our 1st mural for the Pottstown Regional Public Library nears completion, it is fun to look back.
This mural was started on October 4, 2017 when the giant roll of parachute cloth was laid out and cut to length.
We invited students from a local homeschool group and from The Hill School with Mrs. Nelson, Senior Master of the Arts, to help us paint the first and second coats.
Then, the work began of taking a flat picture and making each and every detail look realistic. Many details were changed along the way as we tried out different colors and different landscape features. Blue hills of Pennsylvania were added and then painted purple for the purple mountains majesty in American the Beautiful song. The road swung the farthest on the color spectrum. It went from pink to splotched black, to all black to a road that reflected the sunlight except where the car's shadow lay.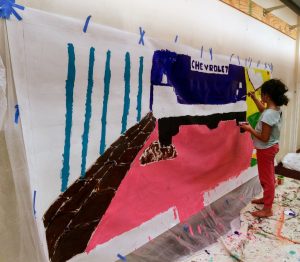 So many artists have helped make this mural beautiful.
Kai Kulkarni, who helped draw the original sketch that we fell in love with
Bronwyn de Maso who drew the sunset in the original sketch and helped bring it to life on the mural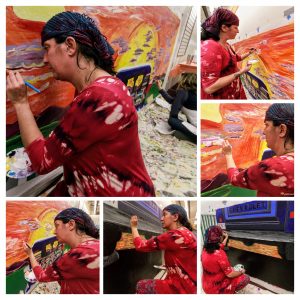 Alyssa Glick, who loves to draw classic cars; look for more in future murals of ours
Patti Klein who made a wonderful suggestion to the original sketch: let the truck hit a rock so a book will fall out
Shirley Kanyon who added the gnomes to protect the book from being run over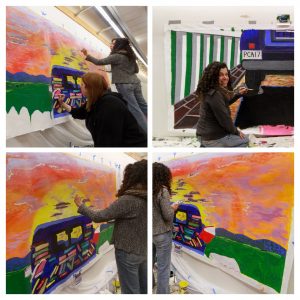 Audra Ross and her eldest daughter whose attention to detail has pushed the level of art higher and higher
Konstance Folk who gladly shared her knowledge of murals with us
Chris Turek whose knowledge of colors from being a framer helped us add depth to the grass
Krysta Bernhardt and her eldest son who walked in and knew instantly how to fix the fence and then came back to help more
Lundana Brandt and her daughter who both love art and bring their enthusiasm that pushes us on
Marie Haigh and her daughters
Every single one of these artists have volunteered their time and talent to this project. It is their gift to Pottstown and to the local library.
Love what we do?
Or consider donating to our projects today.
(Link takes you to MOSAIC Community Land Trust website, as we are a committee of MOSAIC, where you can choose the amount you want to donate. Thank you!).