On Saturday, June 9th, in conjunction with the Montgomery County Studio Tour, PDIDA, Pottstown Downtown Improvement District Authority, hosted an Arts Walk in downtown Pottstown. There was face painting, balloon creations, rock painting, art by local artists: Christina Tayvin and Elaine McFarlin, donations being raised for the upcoming Go Fourth festivities, and a sale at the new ice cream cafe. Pottstown Community Arts added to the fun by creating a station for visitors of all ages to paint in plein-air style.
Plein-Air painting on E High Street
This slideshow requires JavaScript.
As you can see, participants ranged in age from 3 years old to adult. Each had the option to take their artwork home or to hang it on the wall. Only a few took theirs home. We look forward to hanging them in our studio, creating a wall of art.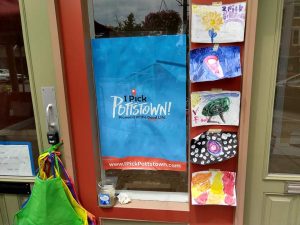 A special Thank You to all who donated art supplies, making this activity possible:
Ice House for the dozen pizza boxes that were turned into table-top easels
Mrs. Ellen Nelson, head Master at the Center for the Arts, The Hill School for our extensive supply of paintbrushes
Patti Klein, our own Creative Director, for the cereal boxes that were painted white for canvases as well as for washable paints
Member Audra Ross, our own VP Chair, for the fun accessories: artists aprons and matching hats, palette lollipops, and the hours dedicated to prepping the project
Member Kai Kulkarni for cereal boxes/canvases
Member Tatijana Naumoski for cereal boxes/canvases
On our Get Involved page, we have a list of art supplies that we need on a continuous basis and would appreciate any donation you could make. We frequently participate in free local events. At the next event, Pottstown Sports Carnival, we will be painting old tires and creating a very colorful tire run. Stop by and paint with us.
Love what we do?
Or consider making a monetary donation to our projects today.
(Link takes you to MOSAIC Community Land Trust website, as we are a committee of MOSAIC, where you can choose the amount you want to donate. Thank you!).