Saturday, April 21st was a great day in Pottstown, PA.
2 fun and empowering events took place: Rock the Block Pottstown and Pottstown Celebrates Young Children. Pottstown Community Arts was a proud community partner in both events.
We provided various art activities for children and their caregivers. Grabbing the sidewalk chalk first, volunteers drew a quick sign and a street for toy cars to drive on.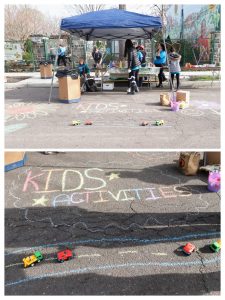 It grew from there. Volunteers from Boyertown High School and Pottstown High School helped. Nicole Fox, a member of Pottstown Community Arts, helped. Kids added their artistic touch. Even DJ Mike Scott helped out by giving our racetrack a proper name!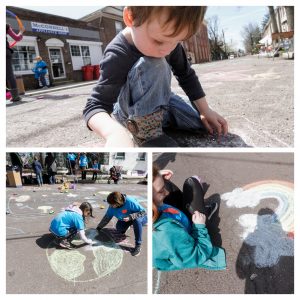 Our chalk menagerie really exploded when our artist-in-residence, Bronwyn De Maso, lent her hand to the mix. She drew animals – both real and mystical, mushrooms, and a musical chart. Almost all of her drawings were outlines to encourage kids to grab some chalk and color things in.
The 2nd project was a spin off of our old Hearts Initiative project where we had cross-stitched hearts on chain linked fences around town. To simplify the process this time, rather than cross-stitching the fabric, we wove fabric in and out of the fence holes in the shape of hearts, both large and small. Several volunteers and one young helper wove the hearts, decorating the fence in front of the MOSAIC 423 Chestnut St community garden.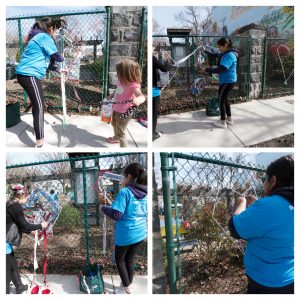 The 3rd project decorated the mulch in the MOSAIC community garden. Over the Fall and Winter, Pottstown Community Arts had accumulated a box of painted rocks and shells. Some were painted at the monthly Car Show, some at the Pet Fair, and some at the Pottstown Regional Public Library. All were laid in the front garden bed.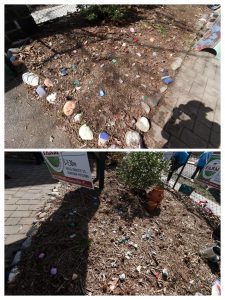 The last and largest project was creating inspirational yard signs. These were so much fun to make!
We started a month ago prepping for this event because the yard signs originally told people to stop by the KidSense Sale. We did our best to hide the original lettering with white primer.
Then, both young and old helped create beautiful artwork, writing compassionate, inspirational, and delightful statements on the signs.
Most didn't stop there. They added fun drawings and blocks of vibrant colors.  A few came back to paint a 2nd sign.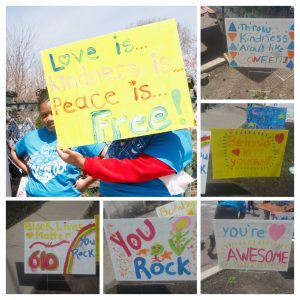 The signs can be found on the 400 block of Chestnut Street. Drive by and be inspired!
The fun didn't end with these 4 projects. There were bubble to blow, flower pots to paint, and, thanks to our member Lounedana Jodherly, hula hoops to whirl about.
While Rock the Block was wrapping up, the 2nd event started. It was at the Pottstown High School where PEAK Early Learning hosted the 12th annual Pottstown Celebrates Young Children & Pottstown YMCA Healthy Kids Day.
75 community organizations and businesses brought games, activities and crafts. Knowing how much local residents enjoyed painting tires last year, we brought yet more paint this year along with 2 mini-murals.
Working with our parent organization, MOSAIC Community Land Trust, 2 of our members, Audra Ross and Kai Kulkarni, welcomed people from the community to our table where we handed them a paintbrush and some chalk.
Some colored in between the lines, some colored outside the lines, and some created their own drawings on our mini-murals.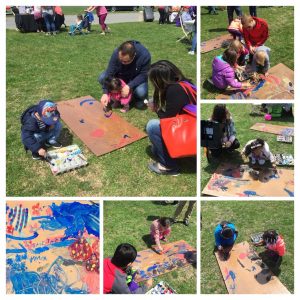 When the murals were completely covered in washable tempera paint, we wiped them down with a wet rag and let the kids do it all over again. Sealed mini murals are wonderful in their simplicity: Paint. Rinse. Repeat.
Read more about the Pottstown Celebrates Young Children event in our local Mercury newspaper.
Did you notice how we recycled egg cartons and used them as palettes? Egg cartons are just some of the supplies that we use regularly at Pottstown Community Arts. Take a look at our list of supplies that we need and please consider donating what you can.
Love what we do?
Or consider donating to our projects today.
(Link takes you to MOSAIC Community Land Trust website, as we are a committee of MOSAIC, where you can choose the amount you want to donate. Thank you!).