Pottstown Community Arts was proud to once again work with the Habitat for Humanity of Montgomery and Delaware Counties as they hosted the annual Rock the Block event. During the event, more than 20 projects were completed, more than 50 bags of trash were collected throughout the community, and more than 215 volunteers came out to work during the day!
While volunteers beautified Pottstown by picking up trash, weeding gardens, and repairing sections of town, we were proud to beautify Pottstown with 4 different public art projects:
Sidewalk chalk with bubbles and jump ropes 
With the street blocked off, children could draw rainbows, dragons, and more.
EcoFest Beaver 
This beaver arrived with just a paper mache outer shell showing. By the end, the beaver not only had a base coat of brown painted all over in addition to color markings painted on its tail, back, and face, it had garnered a name: Pottstown Patricia!
Pottstown Patricia will go on display at the annual EcoFest in Pottstown on Saturday, April 27th. Thereafter, she will tour Pottstown as a celebrity animal.
Pot people 
Local residents of all ages took to this project, painting clay pots with acrylic paint and/or oil markers. Some of the pots had doll heads attached and some did not. All were painted and will be assembled into pot people.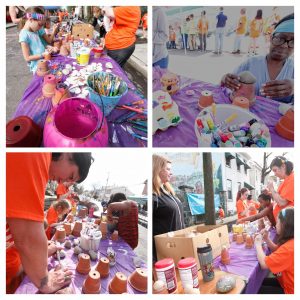 During our summer outreach where we work with different summer camps, they will be placed in the local MOSAIC gardens as fanciful decoration.
Kindness rocks & shells 
Last year, Common Ground Mission entrusted their Love Rocks Pottstown project to us, by donating us all their supplies from oil markers to complete instructions. We now bring rocks and shells to most of our public events for people to color and then hide. A few rocks and several shells were colored at Rock the Block.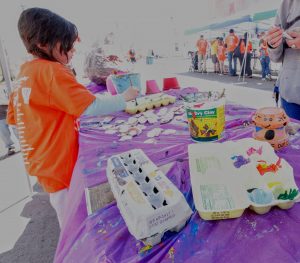 All the shells were placed in the 423 Chestnut st MOSAIC garden. The rocks were hidden by my young helpers in the hopes that another person would find one and it would brighten his/her day.
Love what we do?
Stop by and visit us at our next events:
EcoFest on Saturday, April 27th, 12-5pm at Smith Family Plaza
Band Against Bullying on Sunday, April 28th, 11-2pm at Smith Family Plaza
Or consider making a monetary donation to our projects today.
(Link takes you to MOSAIC Community Land Trust website, as we are a committee of MOSAIC, where you can choose the amount you want to donate. Thank you!).